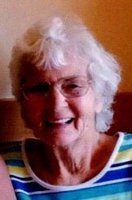 Marilyn A. Hirschauer
Marilyn A. Hirschauer passed away February 27, 2019 in Newfane Rahab & Health Care Facility. Born July 22, 1935 in Buffalo she was the daughter of Edward and Irma (Kleinfelder) Orsolits. Marilyn worked for M&T Bank in Buffalo where she was a bank teller. She was predeceased by her husband Matthew Hirschauer. Marilyn is survived by her children Mark (Deborah) Schmitkons and Candace (Larry) Quinn; grandchildren Nicole Koziel, Sara (Paul) Herman, Jason (Brandy) Whitte, and Kelly (Dan) Drake; and fifteen great grandchildren.
Private Services will be held at the convenience of the family. Online condolences at www.pruddenandkandt.com.