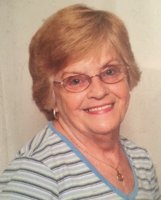 Phyllis N. Mack
Phyllis Mack, 74, of Lockport died Wednesday (March 7, 2018) at Buffalo General.
Born July 27, 1943, the daughter of Bernice Dwaileebe, she was raised in Olean and Buffalo. Mrs. Mack raised her three sons in Alden and worked for many years in electronic quality control and later in child care. She was an active member of Calvary Baptist Church involved with children's programs and bible study.
Phyllis is survived by her sons Jeffrey (Beth) Mack of Layton, UT and Gregory Mack of Lockport, four grandchildren; Gregory, Lexi, Keith, and Emily, and many loving nieces, nephews and brothers and sisters- in-law. She was predeceased by her son Brian Mack and five brothers and three sisters.
Visitation will be held at 10-11 AM on Saturday March 10, 2018 at the Calvary Baptist Church, 405 Lincoln Avenue, Lockport, immediately followed by services at 11 AM. Interment will be in White Chapel Memorial Park in Amherst. Online condolences at www.pruddenandkandt.com.