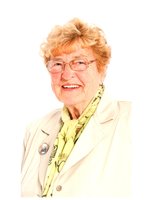 Mary W. Hahn
Mary W. Hahn passed away peacefully surrounded by family March 1, 2018. Born in Lockport December 29, 1924, she was the daughter of the late Jacob and Julia (Hentges) Wick. Mary worked at Harrison Radiator, and also with her husband at Hahn Heating & Air Conditioning, and was bookkeeper for Lewis Flower Shop. She was a lifelong resident of Wick Road, was an avid reader, a volunteer with Lockport Memorial Hospital, the Presbyterian Home, and American Red Cross. She was a member of Wrights Corners Mothers Club, St. Mary's Mother's Club, and Modern Mother's Club serving as a past president for all three clubs. Mary was also a member of the Niagara Frontier Chapter Refrigeration & Engineers Society Auxiliary. She was predeceased by her husband Oscar T. 'Bud' Hahn on June 9, 1998.
Mary is survived by her children Julia (Mike) Perry, Daniel (Angie) Hahn, Thomas Hahn, Joseph Hahn, Cynthia (Edmund) Davis, Peter Hahn, David (Donna) Hahn, and late Stephen Hahn, William Hahn, and Mary Lou Hahn; the youngest sister of late Cyril, Greg, Harold, and Norbert Wick, Florence Randall, Anna Eifert, Gertrude Gaul, Regina Erck, and Lorraine Clark; also several grandchildren, great grandchildren, nieces, nephews, and friends.
Relatives and friends are invited to a Mass of Christian Burial Wednesday, March 7th at 10 AM in St. John the Baptist RC Church, 168 Chestnut St., Lockport. Interment will be in Wrights Corners Cemetery. Memorials to the Niagara County Historical Society or to the Lockport Presbyterian Home, would be appreciated by the family. Visit pruddenandkandt.com.