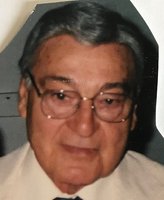 Salvadore A. "Sam" Ritz
It is with great sadness that the family of Salvadore 'Sam' Ritz announces his passing at Niagara Hospice on Friday, September 29, at the age of 96. Sam graduated from Lockport High School in 1939 and began a 40 year career at Harrison Radiator rising to the position of General Maintenance Foreman. He interrupted his work from 1942 to 1945 joining the US Navy and served on the USS Vulcan in both the Pacific and Mediterranean theaters during WW II. Sam was an avid NY Yankees fan his whole life and also enjoyed playing sports. At the age of 18 he captured the Lockport Horseshoe Championship and went on to win many more titles over the years. He was also a gifted bowler and rolled a 300 game in 1981.
He enjoyed woodworking and made many renovations to the home he lived in for 90 years that his father built on Niagara Street. He and his wife Dorothy (Felice), who he was married to for 56 years before her passing, enjoyed their second home in Florida during the winter months, and he attended St. Anthony Roman Catholic Church.
Sam is survived by his children Judith (Thomas) Jones, Jerry Ritz, Rod Ritz, Ritchie (Pamela) Ritz and late Raymond Ritz; grandchildren Raymond Ritz, Bryan Ritz, Michael Jones, and Timothy Jones; and seven great grandchildren. A special thank you to Delores Gailor his sister-in-law for her loving support.
Relatives and friends may call Monday, Oct. 2nd from 3-7 PM in Prudden & Kandt Funeral Home, 242 Genesee St., Lockport. A Mass of Christian Burial will be celebrated Tuesday, Oct. 3rd at 10 AM in All Saints Parish, 76 Church St., Lockport. Interment will follow in Cold Springs Cemetery where he will be buried alongside his loving wife and his Raymond who predeceased him in 1962. Memorial donations to Niagara Hospice in memory of Sam & Dorothy would be appreciated. Visit pruddenandkandt.com.