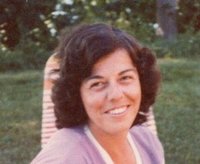 Dorinda Lee Striffler
Dorinda Lee Striffler of Lockport, NY, passed away Sunday, September 10, 2017 in Niagara Hospice House. Born on July 14, 1945, she was the daughter of Helen (Pollock) Striffler and the late Donald L. Striffler. Dorinda worked for Diversified Manufacturing for 35 years where she started as a switchboard operator and retired as a purchasing agent in 2006. Dorinda was a doting mother and grandmother who was devoted to her family. She enjoyed antique collecting and outings with friends. She was predeceased by her father, her daughter Justine (Kraatz) Balk and her brother Gary Striffler.
Dorinda is survived by her mother, her daughter Tammy (Christopher) Kraatz Feenan; her grandchildren Eli, Nathan, Jackson Feenan and Mark Balk; siblings Gerald (Carol) Striffler and Terry Striffler; also 5 nieces and 1 nephew.
Condolences may be offered to the family on Saturday, September 16th from 3-5 PM in Prudden & Kandt Funeral Home, 242 Genesee St., Lockport. Donations to Niagara Hospice would be appreciated.