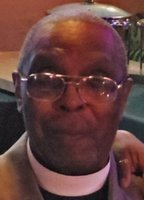 Sammie L. Bell
Rev. Sammie L. Bell passed away September 4, 2017 in Buffalo General Medical Center. Born August 30, 1929 in Chesson, AL he was the son of Willy and Arlene (Knight) Bell. He was ordained in 1958 and began his ministry Friendship Baptist Church, Lockport. Rev. Sammie served as assistant pastor at several other churches including, Israel AME Church, Payne AME Chapel, and the First AME Church in Lockport where he retired from as Assistant Minister.
Rev. Sammie is survived by his children Sammie Bell, Jr., Rev. Caleb (Anita) Bell, Keith Bell, Louisiana Carroll and late Arlean Jenkins; a host of grandchildren and great grandchildren; brother of Willie James Johnson and Eddie Lewis (Wilomena) Bell.
Relatives and friends may call Saturday, September 9th from 11 am - 1 pm with services following at 1 PM in Prudden & Kandt Funeral Home, 242 Genesee St., Lockport. Interment will be in Cold Springs Cemetery. Visit pruddenandkandt.com.