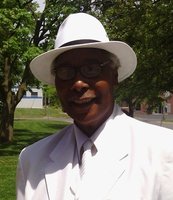 Joe L. Walker
Joe L. Walker passed away August 25, 2017 in the HighPointe Health Care Facility, Buffalo. Born March 16, 1945 in Fort Valley, GA he was the son of Bertha (Turner) Walker and late Lewis Walker. He was a graduate of Medina High School Class of 1965 and enlisted in the US Air Force serving from 1965 to 1967. Joe worked for Bernzomatic in Rochester, NY where he drove truck. He was an active member of various local churches especially Glad Tiding Missionary Baptist Church in Medina and was presently an active member of the Latter Rain Cathedral in Lockport where he became a deacon on May 15, 2016. Joe enjoyed reading, fishing, gardening, and teaching Bible scripture. He was predeceased by his wife Laverne (Ingraham) Walker.
Besides his mother Joe is survived by his son, Joe L. (LaShanna) Walker, Jr.; grandchildren Makayla, Jayda, and Ari Walker; siblings Arthur (late Rhonda) Walker, Timothy (Debra Ann) Walker, Nathaniel (late Adrianne) Walker, Mamie (Carlton) Little, Betty Walker, Larry (Louise) Corey, and late Henry Walker, Bertha Mae Lamar, and Herman (Barbara) Walker; also survived by a host of cousins, nieces, nephews, and friends and close friends Frances Drain.
Relatives and friends may call Saturday, September 2nd from 10-11 AM with services at 11 AM in the Latter Rain Cathedral, 9 Bristol Ave., Lockport. Visit pruddenandkandt.com.