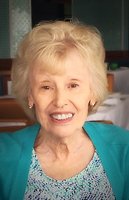 Joan Mae Wilson
Joan Mae (Perry) Wilson passed away August 24, 2017 in Alexandria, VA. Born June 27, 1930 in Lockport she was the daughter of, Raymond R. and Marvis I. (Graham) Perry. She was a graduate of Lockport High School, was a member of St. Louis Catholic Church in Alexandria, VA for 50 years, and a very active member of the Hollin Hall Senior Center in Alexandria, VA. Joan and her late husband enjoyed Round Dancing and Ballroom Dancing and traveled to Canada and throughout the United States to participate in square dance and Round Dance Conventions. In addition, Joan has continued her love of dancing at The Hollin Hall Senior Center where she took classes in Ballroom, Line Dancing and Hawaiian Dancing. She was a member of a group that performed Hawaiian dances at various Senior Centers in Northern, VA. Joan also loved to travel, was an avid reader and loved attending her grandchildren's sporting events, competitions, plays, and other various events. Joan was predeceased by her husband of 62 years, Frederick Thomas Wilson who passed away October 9, 2011, completely devoted to her husband Fred until her death, even leaving him valentine messages in the paper after Fred's passing.
Joan is survived by her sons and their wives, Mark and Lora Wilson, Christopher and Kristin Wilson; daughters and their husbands, Cheryl Wilson, Diane (Wilson) and Ennes Abbring, Julie (Wilson) and Robert Haller; his brother, Norman C. Wilson of Lockport, New York; and his grandchildren William, Harlin, Brian, Emma, Cadence, Logan, Gregory, and Nathan. Sister of Mary Lou (George) Williams and Raymond (Nancy) Perry; and several nieces and nephews.
Friends may call on Thursday August 31st 4-8 PM in Prudden and Kandt Funeral Home, 242 Genesee Street, Lockport, where services will be held on Friday morning at 10 AM. Interment will be in Cold Spring Cemetery. Online Condolences at www.pruddenandkandt.com.