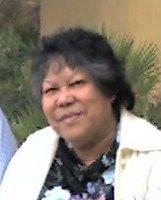 Nelita F. Bailey
Nelita F. Bailey passed away peacefully after a long illness surrounded by her loving family on Friday August 25, 2017 in Briody Health Care Facility. Born in Ilo Ilo, Philippines on February 15, 1946, she was the daughter of the late Rodrigues Ferrer and Mercedes Cortez Ferrer.
Nelita was a beautician and business owner of Nelita's Beauty Salon for 25 years until she retired in 1997. She enjoyed traveling and loved her family.
Nelita is survived by her husband of 53 years, Charles E. Bailey. She was the mother of Charles E. (Dawn) Bailey, Jr. and Mary Ann (Donald W. Waters) Halstead. She was the grandmother of Jay (Brandi) Halstead, Marisa Nelita Halstead and Yazmin (Marin) Lopez. She was the great-grandmother of Audrey J. Halstead. Nelita was the sister of Leticia Ray, Melita Fox and the late Alex Ferrer and Nenita James. Nelita was the sister- in -law of Edson Bailey and the late Louise Shaffer and James Bailey. She is survived by several nieces and nephews.
Family and friends may call Wednesday, August 30th from 3:30 to 6:30 at the Prudden & Kandt Funeral Home, 242 Genesee St. Lockport where services will immediately follow at 6:30pm. Memorials may be made to the charilty of one's choice.